Archive for November, 2008
The Media Management Center at Northwestern University recently came out with a report called "Six Competencies of the Next Generation News Organizations".
The introduction scopes the report's objective:
Advances in technology continue to spur great innovation in media — especially in the news industry. At the same time, these rapid-fire innovations have upended the ways in which news is gathered and distributed and threaten the financial core of the news business. This study seeks to identify technology trends that will have an important impact on the future of news reporting and delivery in the near term. Like a scout surveying the frontier ahead, this report also explores technologies to come and recommends ways news organizations can prepare themselves for ongoing and impending change.
While I can't say the 92-page tomb is an easy read the recommendations around six capabilities that news organizations must build or strengthen to compete in the changing media landscape did catch my attention.
Lo and behold one of the six capabilities captured is "The Complete Storyteller." 
I think we can all agree that the "Incomplete Storyteller" is not the way to go.
No comments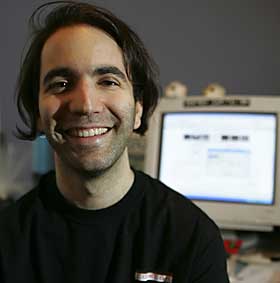 The recent BusinessWeek piece titled "BitTorrent's Bram Coen Isn't Limited by Asperger's" got my attention.
The inventor of the technology that brought digital movie sharing into the mainstream let the world know he suffers from Asperger's syndrome.
The painfully honest profile intersperses good, bad and not-so-pretty elements:
"For Cohen, this has been a fraught journey into the sometimes bewildering world of the office. The social conventions that ease everyday interactions can still elude him. He doesn't like to shake hands or wear shoes or make small talk. He often plays with a Rubik's Cube. Sometimes when he is outraged, or more often when he is fatigued, he bursts forth with unwelcome candor. He can be oblivious, lecturing on solar cells or economic theory or euphemisms until someone stops him."
Obviously, this vignette does not come from Cohen's official bio, but he calls the overall story a "fairly reasonable portrayal" on his blog – albeit with too much emphasis on the Asperger's angle.
I give credit to BitTorrent for providing BusinessWeek with no-rules access to Cohen, knowing that unflattering elements would inevitably surface (although the fact that the fired brother didn't return the reporter's calls was probably a good thing).
The payoff comes in the form of an honest look at the founder which ultimately humanizes the company.
Would BusinessWeek have devoted so many column inches to retell the story of yet another youngster gifted in mathematics challenging the establishment a la Napster?
There's no way. But by setting the stage with Asperger's as well as gaining perspective from those around him, BW gains the type of fodder that makes for good storytelling:
Then there was Bram himself. He could be disruptive. He likes to talk and play with his puzzles. "We have to keep him contained so others can work," says Navin. "New employees didn't know they could tell him they had to get back to work." And his overly blunt but rarely ill-intentioned comments didn't always go over well. Ivy Hsu, the office manager, was the first person Cohen and Navin hired. One day Cohen said to her: "I don't understand the point of being detail-oriented. Only the dumb people in this world focus on small details." Hsu has since learned how to deal with him. "You have to communicate according to the rules he understands," she says. "You can cut him off, you can walk away. There is no point in sugarcoating things, because if you do, he may miss the whole point.
Obviously, the BusinessWeek reporter also sniffed out some discord between Cohen and the CEO at the time:
The executive BitTorrent hired is Doug Walker, who had led graphics software company Alias Technology in Toronto. He is circumspect when it comes to Cohen but does say: "You're always going to have an honest conversation with Bram. To me that's fair, even if you may not always like it."
I say "CEO at the time," since the company just named Erick Klinker as the new CEO. 
No comments
I tend to associate infomercials with Ginsu knives and historical videos on World War II.
Obviously, the Barack Obama infomercial that aired last month was not in the order-now-and-get-free-shipping genre.
Putting politics aside, the video comes across as a powerful communications vehicle.
How can you go wrong with world-class production quality, panoramic views of "amber waves of grain" and Mr. Obama's gift for oratory?
Yet, the element that creates the drama and a true sense of storytelling comes from the people vignettes. That's what really pulls the viewer through the 30 minutes to hear Mr. Obama explain "why me."
As a quick aside, B&O Railroad should especially resonate with baby boomers from their Monopoly-playing days.
What politicians know both intuitively and from reams of hard data continues to elude technology companies: The most compelling stories revolve around people.
Before Wall Street Journal reporter Vauhini Vara returned to campus life at the University of Iowa, she shared the following insight during an SWMS interview:
"There is a tendency here and elsewhere to focus on companies that have consumer implications. Pitch stories about interesting approaches in management, or changes that took place in the industry that had an impact how the organization has to move. That allows us to write about people, rather than just sort of writing dryly about technology."
As even business publications such as The Wall Street Journal strive to bring an entertainment quality to their content, they've figured out that the quest for drama starts with people.
6 comments